Andrea Riseborough Is Taking a Stand
The day I meet Andrea Riseborough, she had gotten up at the ass-crack of dawn to get glammed up and head to the butt-end of New York City. That morning, she and the cast of Waco—the miniseries she starred in earlier this year alongside Taylor Kitsch, about the 51-day siege on cult leader David Koresh's religious compound—rang the NASDAQ opening bell. It was an important pit stop on their press tour, but not exactly her kind of scene. "I looked out into the crowd, and it was just a sea of white men," says Riseborough. "But they let me wear my Planned Parenthood pin, so I did it."
Riseborough has appeared in no less than seven projects since last fall, and has never passed up the chance to make a statement at her public appearances. Rarely does she walk a red carpet without a Time's Up pin stuck to her person: affixed to the frills of a Ronald van der Kemp gown at the premiere of Waco, to the collar of a Tory Burch turtleneck at the Sundance premiere of The Death of Stalin (in which she played Stalin's daughter), to the hip of a Vetements graphic hoodie-skirt combo adorned with the words MAY THE BRIDGES I BURN LIGHT THE WAY at the Sundance premiere of Mandy (a wild, wonderful gonzo horror flick starring Nicolas Cage). Repping for the Billie Jean King biopic Battle of the Sexes at a BAFTA event in Los Angeles this past January, she improvised and wrote #TIMESUP in what looks like whiteout on a black tank top.
Advertisement – Continue Reading Below
"I think I'm in a really privileged position, but sometimes it can feel futile to be flaunting your wares," she says of the red carpet industrial complex. "So it's about keeping a balance—retain your integrity, promote projects that you're invested in, and take every opportunity to use your platform to talk about things that are important to you."
The movie Nancy, in theaters now, was made at the intersection of all that. In writer-director Christina Choe's feature debut, Riseborough plays the titular Nancy, a deeply damaged young woman who becomes convinced that her late mother abducted her when she was five years old after seeing a news report on the anniversary of the abduction. She seeks out the the couple still mourning their lost child 30 years after her loss, and the three of them become emotionally entangled as they wait for a DNA assessment to determine if their family has truly reunited. Riseborough's performance is all at once infuriating, heartbreaking, and magnetic. You've probably seen Riseborough on screen before, but you'd be forgiven if you didn't recognize her from film to film, so deeply does she cocoon into her roles—and here, she sucks you into Nancy's psyche too.
Riseborough says that any script written by a woman "always goes to the top of the pile for me," but that Nancy's unflinching contradictions especially gripped her. "Usually, the first character description you'll see of a female character in any script will include maybe three descriptive words," she says. "And one of them will be 'young' and another will be 'beautiful.' And that's depressing." But here was a character who was drawn in three dimensions, presented as "being imperfect, manipulative, lonely, desperate—qualities we see in male anti-heroes, but that we rarely see in women." Though to call Nancy an anti-heroine may still be too reductive—onscreen, Riseborough's intense, simmering sense of longing dares you to not to get caught up in Nancy's delusion. You buy into it. Or rather, you really, really want to buy into it. She challenges the judgment that comes with being aware that you're watching an anti-hero.
"When you watch Taxi Driver, you don't question whether this man is morally corrupt. He is deeply morally corrupt," says Riseborough." But because the patriarchy lives in all of us—it's not confined to gender—I've found myself judging female characters more harshly. But there was no detaching from Nancy. This film is about someone who is desperately longing for connection, who is deep in her own loneliness, who is using all the faulty tools in her arsenal. It's important to consider where she's coming from. It's not an excuse for her behavior; you're exploring the reasons for her behavior."
Advertisement – Continue Reading Below
Nancy became Riseborough's first producing credit. She ended up developing the movie with a cadre of fellow female producers and taking it to Barbara Broccoli, the power-producer behind the James Bond franchise. "I approached her and said, 'I've got this female script that we plan to make with a female crew—and nobody wants to give us money.' I could tell Barbara had heard this before."
Once Broccoli—"our guardian angel"—was on board, Riseborough and team set out to build a below-the-line roster that reflected their vision of Hollywood. By Riseborough's estimate, the production had an 80 percent female crew and 50 percent people of color. "We wrapped on time and on budget every day. There was very little ego, and very little time wasted," she says. "Everybody was so ready to prove that they could do the job—and they shouldn't have to feel like that, but they just hadn't had the opportunity."
To borrow a term from the NASDAQ crowd, Riseborough is feeling bullish about opportunities for women and minorities in Hollywood, even if progress is incremental. For her, the Time's Up pin isn't an accessory, but a reminder: "For the first time, I know that I can ask for equal pay and I won't immediately be shut out before they just bring in another pair of ovaries," she says. "They might not give it to me, but I can ask for it. That's not even a conversation I was ever able to have." It's also a shot in the arm: "That feeling of being so disposable—it gets you down. And it's something you feel if you're in any sector of society that feels underrepresented. Because we're told over and over that if we're not a straight white dude in a cape, we're 'Other.'"
Advertisement – Continue Reading Below
Riseborough has been quietly wrestling with convention for a while. Last year, she appeared in "Crocodile," an episode of Charlie Brooker's Black Mirror, in which she plays a woman who commits a series of increasingly harrowing murders to cover up an old secret that threatens to unravel her new, picturesque life. The role was originally written for a man, and Riseborough had first been cast as the investigator on his tail. But instead she lobbied John Hillcoat, the episode's director, to change the killer to a woman. The result was a brutal funhouse mirror of how maternal instinct is portrayed onscreen: As the character becomes more desperate to preserve her life and protect her family, circumstances put her in the position of needing to kill another mother and child. "There was some concern at the beginning that the audience wouldn't be able to sympathize with a woman in the role," says Riseborough. "And I said, 'Well, all the more reason we should do it, to challenge that.'"
While Riseborough ostensibly broke out hard and fast in 2011, starring in W.E., Madonna's second-ever directorial turn, and appearing alongside her on magazine covers and in features, she still identifies as a "natural recluse." When she appeared in the Oscar-winning Birdman in 2014, "I remember being scared of the exposure," she says. "I found that to be a really difficult transition. After that, I took two years off." Now, with an IMDb stacked with upcoming projects that run the gamut from sci-fi to horror, TV shows to prestige indies, she's on a run that can only mean more opportunities to spread her gospel. "I really look forward to a time where we don't even talk about whether the character is a man or a woman or straight or gay or transgender or whatever, because it's just a normal part of how we represent the world, not something novel," she says. "Then we can just talk about the character."
Go to Source
Author:
Princess Charlotte Is the 'Biggest Character' of Kate Middleton and Prince William's 3 Kids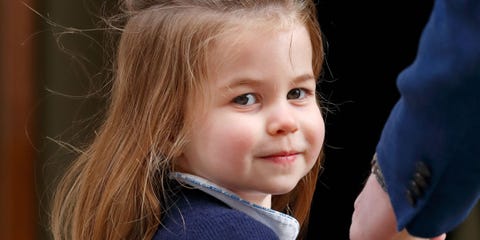 Getty ImagesMax Mumby/Indigo
Us Weekly has a new dispatch on how Kate Middleton and Prince William's three royal kids are turning out as they grow up and into their personalities. Prince George is still the shy one while Princess Charlotte has emerged as the star of the group. Charlotte, a source told the outlet, is "very bubbly. She's definitely the biggest character of the three children at the moment." (Her famous royal waves were hint enough.)
Advertisement – Continue Reading Below
She's also a great little hostess, the source detailed. "She'll come up to guests and ask them if they want tea or coffee or offer them sweets—so adorable!" Indeed.
George and Charlotte's baby brother Prince Louis right now is "very quiet and content, always smiling and happy," the source said. But the potential is there for him to be the most talkative of all when he starts to speak.
Go to Source
Author:
Jessica Ramos Knows Her District Wants Change. Now She Just Needs Their Votes.
I
t arrived on my phone like an unexpected text from a crush: curious and disarming. But it wasn't a text, and it wasn't from anyone I knew. Instead, while standing in the subway's collective morning huddle, someone, who had changed their name to "NY Dem Primary Tomorrow," wanted to AirDrop me a familiar photo, one I had seen on Instagram the night before. It was a list of progressive candidates running in New York's primary election on Thursday, Sept. 13, and among them were a number of Democratic women who are about to go up against long-time incumbents, challenging the system once more this primary season.
Advertisement – Continue Reading Below
Just days before, I had met one of these women, Jessica Ramos, a mother and the City of New York's former director of Latino media, who's running for the state Senate's 13th district. At that point, the primary election was still six days away. There was a lot to think about, a lot to do, voters to talk to and flyers to give out. It was 10 A.M. when we met, and Ramos was wearing a beige skirt, a red top, and pink eyeshadow. That day's location? Door knocking in Woodside Houses, situated in one of her district's six neighborhoods.
Ramos does some version of this every day: door knocking, fundraising, events. She's currently up against Jose Peralta, who's been in the state Senate since 2010. He's a Democrat, though he was also a former member of the Independent Democratic Conference, a group of eight state senators that allied with Republicans.
It's Ramos' first time running for office, and she happens to be running in a state Senate district that's almost entirely included in Alexandria Ocasio-Cortez's congressional district. Ocasio-Cortez, who won her Democratic primary earlier this summer, beating out a 10-term incumbent, gave Ramos a true snapshot of her district: "Seeing that we were right, that people really want to see the status quo changed was very validating and very inspiring, absolutely. People are tired of the same old, same old."
Advertisement – Continue Reading Below
Ramos most recently served the City of New York, but working for a progressive administration taught her there were certain things that were ultimately controlled by Albany, things like school funding, rent reform, fixing the MTA. She learned that her kids' school was owed $2 million. "Then I found out my state senator didn't even show up to vote for that funding. He did not show up for my children. That infuriates me."
Now, she's been endorsed by the New York Times, Mayor Bill de Blasio, and Senator Kirsten Gillibrand. She's formed a friendship with Alessandra Biaggi, who's running for the state Senate's 34th district, and is also going up against an incumbent and the former leader of the IDC. When they both received the Times endorsement, they texted each other.
"Not many people understand what we're going through, the pressure," Ramos says. "You have to always be on. Even if you have cramps and it's the worst day of your period, you have to be pleasant and smiling."
Biaggi, who worked on Hillary Clinton's campaign and in Governor Andrew Cuomo's counsel's office, echoes the same sentiment when we talk on the phone just a few days after I meet Ramos. "Running for office is a very lonely experience," she says. "The fact that myself, and Jessica, and the other anti-IDC candidates, and honestly the other women across the country, are running in districts that have not had female leadership before or have definitely been part of a boy's club, to be doing this same effort in different districts, very close by, it really has made me feel less alone because I know on the most difficult days, I'm not the only one going through that particular challenge. And there have been a lot of difficult days."
Advertisement – Continue Reading Below
Advertisement – Continue Reading Below
Like Biaggi, Ramos has gained momentum. But there's still the act of balancing, of running for office while also being a mom to two boys. She takes them door knocking sometimes, partly so they can spend time together but also so they can see what strong women in their communities can do. That's important to her, she explains, almost tearing up.
We step into one building, and we pass a little girl, no older than 4 or 5, walking outside with an older woman. She says something incomprehensible to us, in the bumbly, adorable way that toddlers do, and Ramos, upon seeing her, stops responding to my question and tells her to have fun today and do lots of playing. For her, this is the point of door knocking, of running at all.
"Running for office is so about your name and your image and your history and your credibility and your experience," she says. "But at the same time, running for office has nothing to do with you and everything about your neighbors and what they need and what message resonates with them, what it is they would like to see addressed in the community what their concerns are, what their hopes are. That is enough to inspire you and keep you going. Seeing that little girl, I want to make sure that little girl has access to fully-funded pre-K. I want to make sure her parents are able to keep a roof over her head. I want to make sure that by the time she makes it to college, maybe CUNY and SUNY will be free because of the work that we'll be able to do in the state Senate. Forget about my opponent. It's all about her."
Advertisement – Continue Reading Below
She comes to this area a lot; she's been here to hand out pizza and ice pops on a hot summer day. Ramos knows the senior center nearby has aerobics classes and bingo before lunch; she's tried the aerobics warm-up before and can report it's "no joke." As we go around, she switches between Spanish and English, occasionally saying hello in other languages. ("I learned how to say, 'Please vote for me,' in Tibetan," she tells me, explaining that people speak over 160 languages in her district.)
And even though there are so many neighborhoods—she's lived in nearly all of them— she believes her message has resonated with the district's voters. She's found that everyone can relate on certain issues, things like affordability and a working MTA. She chose to focus on school funding because "education is the cornerstone of absolutely everything in society." And she wants to organize.
In late June, when there was a huge march in Manhattan at Foley Square to support keeping immigrant families together, she helped organize a march from Jackson Heights to Corona, where there's a large undocumented population, to show solidarity. It's an issue that hits particularly close to home for Ramos, who's a first-generation American. I ask her about the recent news surrounding immigration, the zero-tolerance policy and those very separations. How have they affected her? She tells me a story of a young woman who, some months ago, was shot and killed by a Border Agent.
Advertisement – Continue Reading Below
Advertisement – Continue Reading Below
"I cried for hours," she says. "My mom crossed the Mexican border to come here. She flew from Colombia to Mexico, crossed the Mexican border. She was 24 years old. It took her three days. She did it all by herself. That [woman] could've been my mom." It's one of the few times she chokes up during our hour together. She can't imagine what it would be like to have someone rip her children away, and she knows what detainment looks like first hand; when she was only a baby, her father was arrested in an immigration raid in a factory in New Jersey. It took her family days to find out what happened, locate him, and get him out. "At the end of the day, people come to this country looking for a better life because many times we have made it nearly impossible to live in the countries they come from. I can't change foreign policy from the state Senate, but I sure as hell can fight to make sure New York is a sanctuary state."
Ramos is one of many New York women who are part of the pink wave, a nationwide wave that's bringing women of color, queer women, Muslim women, and Native American women to the shores of our political system. At the very least, Ramos says, this year's historic number of women running is the start of something big. "We've always elected people who have managed to thrive in the system and then we elect them to go fix the system, and yet for women, for people of color, the system hasn't really worked. It wasn't a system that was designed for us to thrive, so for us to have the opportunity to go in there and matter is huge. We've never had that before."
Go to Source
Author:
Ask E. Jean: Would You Swing for Monogamy?
Dear E. Jean: I'm 33 and have always been in monogamous relationships. A couple of weeks ago, the man I've been seeing for eight months took me to a swingers party without telling me. Of course we had a big argument the following morning. He told me he was into this lifestyle and claimed I "just didn't realize" that I'm also into this type of sexual activity.
Advertisement – Continue Reading Below
Since then he's badgered me into going to parties and has kept insisting that I "play" with other people (making out, etc.). So finally I slept with a couple. He watched the whole thing without participating. Did it turn me on? Yes. But I had to be very drunk to do it. He wants me to keep doing it. I don't know what to think! He gave me a ring the very morning after I slept with the couple for the first time. Is he weird? Is he in love with me? —Too Conservative for Him?
My enchanting numbskull: Many and varied are the ways of loving, but it seems to me it does not require five mojitos to realize that an old swinger coercing you into shagging a couple of strangers is not true love.
This letter is from the Ask E. Jean Archive, 1993-2017. Send questions to E. Jean at E.Jean@AskEJean.com.

Go to Source
Author: