The Very Best Poppy Seed Chicken Casserole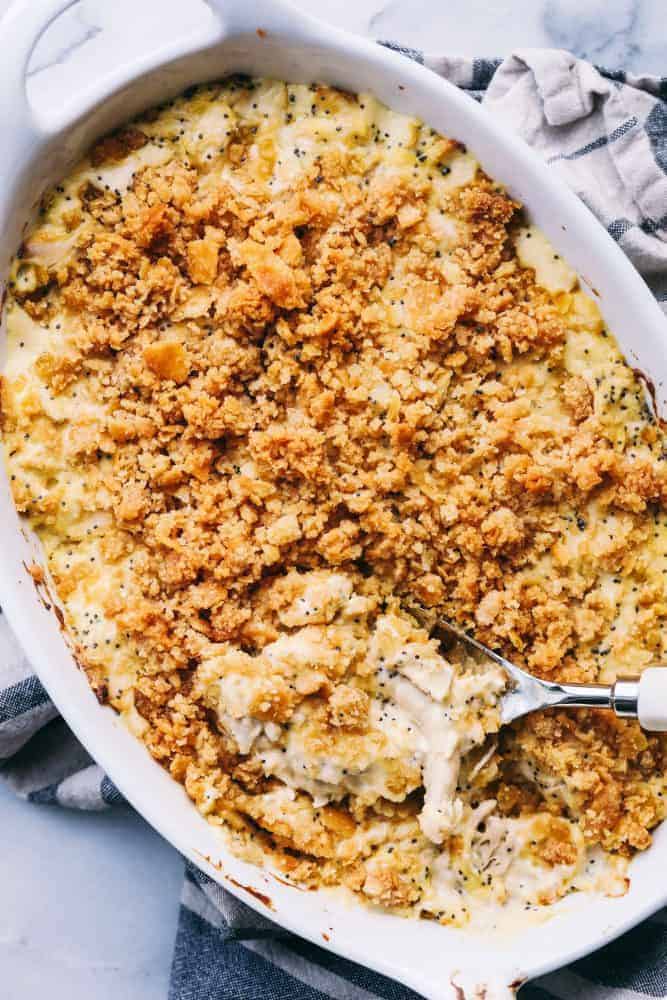 Poppyseed Chicken Casserole is such a classic dish that is incredibly easy to make!  A creamy chicken casserole topped with a buttery ritz topping.  This will be the best you ever make!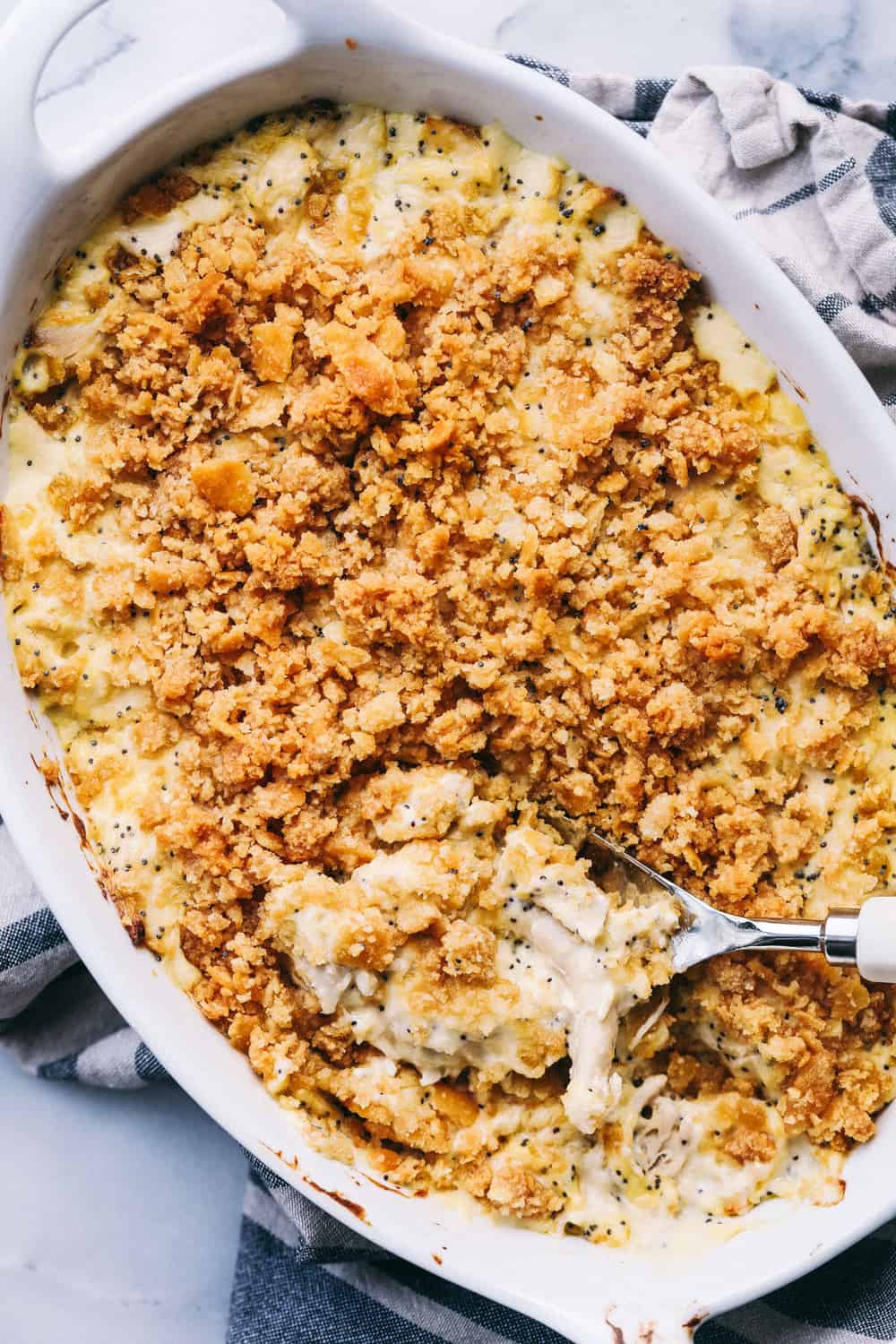 Poppy Seed Chicken Casserole
My neighbor brought me this casserole after I had my last baby and oh man, the family DEVOURED it.  I know a recipe is good in my book if the entire family eats it and it is picky eater approved.  This casserole is so simple, but yet so good and flavorful.  Our favorite part of this meal is the buttery ritz crackers on top.  This is one of those delicious easy meals.  I like how fast it is ready.  We served ours over rice with a side of green beans.  I know that your family will love this just as much as we did.
How do you make Poppy Seed Chicken Casserole?
In a large bowl, add cooked chicken, sour cream, cream of chicken soup, shredded parmesan cheese, and poppyseeds.  Mix until incorporated.  Spread along the bottom of a 2 quart casserole or 9×9 inch pan.
Crush ritz cracker and add melted butter and toss to coat in the butter.  Sprinkle on top of the chicken mixture.  Bake for 25-30 minutes or until bubbly.
Can I freeze Poppy Seed Chicken Casserole?
If freezing, freeze the poppy seed chicken casserole before baking.  Cover the pan tightly with foil and write down the directions on top of the container.  Remove the casserole from the freezer and let it thaw in the refrigerator during the day before baking.
What to serve with Poppyseed Chicken Casserole
The Very Best Poppy Seed Chicken Casserole
Poppyseed Chicken Casserole is such a classic dish that is incredibly easy to make!  A creamy chicken casserole topped with a buttery ritz topping.  This will be the best you ever make!
Ingredients
1 pound cooked chicken, diced (about 2-3 cups)*
1 (8 ounce) container sour cream
1 (10.75 ounce) can cream of chicken soup
½ shredded parmesan cheese
2 teaspoons poppy seeds
1 sleeve buttery round crackers, about 1 cup crushed (like Ritz)
½ cup butter melted
Instructions
Preheat oven to 350 degrees. In a large bowl, add cooked chicken, sour cream, cream of chicken soup, shredded parmesan cheese, and poppyseeds. Mix until incorporated. Spread along the bottom of a 2 quart casserole or 9×9 inch pan.
Crush ritz cracker and add melted butter and toss to coat in the butter. Sprinkle on top of the chicken mixture. Bake for 25-30 minutes or until bubbly.
Go to Source
Author: Alyssa Rivers
Mega-DJ Steve Aoki Wants to Be the Next Big Player in the Pizza Delivery Game
With "Papa" John Schnatter going through a months-long meltdown and his eponymous company suffering the consequences, there appears to be an opening for a new player in the celebrity-fronted pizza-delivery market. Enter Pizzaoki, a new business co-founded by famous disc jockey Steve Aoki, who happens to be the fourth-highest paid DJ on Earth. Pizzaoki launched in Los Angeles, and, according to Forbes, it is poised for major expansion across the country, and, maybe someday, the world. Here are some questions you may have about the burgeoning celebrity-owned pizza delivery operation, plus all the answers.
Who is Steve Aoki exactly?
As previously mentioned, the 40-year-old is an extremely successful DJ. Aoki's accolades include Best Set of the Season at the 2007 DJ Awards and Best Mix Album of the Year at the 2008 Billboard Awards. He's been nominated for one Grammy, which he lost out on to Skrillex in 2013. Aoki has also appeared in several television episodes and movies, typically playing himself, as a famous person often does in such cameos.
Also, his late father, Rocky, founded the ubiquitous Japanese steakhouse chain, Benihana, which is so revered it was the setting for the greatest Christmas episode in the history of the American Office. One might not think a DJ has the required skills to run restaurants, but as he tells Forbes, Aoki already counts himself as an investor in five other restaurants, including a partnership with his brother in Bluetree Cafe, which boasts three locations in Hawai'i. He has the business in his genes.
What's the Pizzaoki business model?
It actually has pretty low overhead. Since coming online July 9, the restaurant has operated out of Los Angeles's Cloud Kitchens, which provides cooking space for multiple LA restaurants. It's delivery only, with pies arriving at customers' doors via third-party apps such as Postmates and UberEats. As a DJ, Aoki is no stranger to late hours, and Pizzaoki is appropriately open late: Sunday through Wednesday from 4 p.m. to 2 a.m. and Thursday through Saturday from 4 p.m. to 4 a.m. Of all Aoki's restaurant investments, this is his first foray into the delivery-only sector.
Aoki is attempting to forge ahead where others have failed. The delivery-only model for restaurants has been pegged as The Next Big Thing in recent years, partly due to the success of third-party restaurant-delivery startups. However, execution of the idea may be more difficult than conception. In May 2017, New York City-based delivery-only establishment Maple, which counted celebrity chef David Chang as an investor, shut down. Less than a year later, Chang's own delivery-only spot, Ando, followed suit. Last year in San Francisco, Young Fava's delivery-only experiment lasted less than two months. This came on the heels of another Fog City delivery-only business, Sprig, going under.
So, Aoki may be facing a tougher path to delivery-only glory than he realizes, but, in his favor, chain pizza has been perceived by Americans as a delivery-only food for decades.
What's on the menu?
Pizzaoki serves eight pizzas, with names that reference Aoki and his music career, and ingredients that reference weed — the base of each pie is his "lit herb-infused" dough. The sauce is his purportedly his mother's homemade recipe. The most elaborate pizza is Aoki's take on the supreme. Officially known at his restaurant as "mayhem" — that's the name of a Steve Aoki song, by the way — it's topped with mozzarella cheeses, sliced pepperoni, ground sausage, meatballs, mushrooms, black olives, red onions, sweet onions, red bell peppers, and green bell peppers. Purists will be disappointed to learn there is a pineapple pizza, the "turbulence," which also comes with mozzarella cheese, sliced pepperoni, and homemade garlic ranch sauce. No doubt, Guy Fieri will be stopping by to proclaim this creation as "totally out of bounds" in the near future.
Does Pizzaoki have any celebrity endorsements?
Of course Pizzaoki has celebrity endorsements. Just take a look at this Instagram video featuring actor and famous weed-smoker Tommy Chong, enjoying a slice with his own personal stash of "oregano."
What do the customers think of Pizzaoki?
So far, the business is receiving generally positive reviews. "I love the music, but the pizza is AMAZING!" one satisfied customer writes on Facebook, where Pizzaoki has garnered 4.3 out of five stars. Yelpers have been a little more critical, doling out a 3.5-star rating. "It was good the next day when I ate a cold slice, like a heathen, after coming home through LA traffic," opines one diner. "It was even a decent price. But, in the end, this was pizza."
Are there haters?
Of course there are haters. Nobody wants to believe in a DJ-turned-pizza entrepreneur. "I love Steve Aoki but even he would be disappointed in what his pizza chefs are sending out to people," says a less-than-enthused Yelper. Nevertheless, Aoki is undeterred.
"We faced the skepticism issue from the start, and it was one of the first conversations that we had," he tells Forbes. "I already faced skepticism as an artist coming out of the gate. Of course, I still have the haters out there that want to bring me down on just the music side. I remember when I got my first Grammy nomination with my first album, and some of the music community were skeptical of a DJ coming into that space. The only way to battle it is by turning out quality content, quality service."
What is Pizzaoki's expansion plan?
Aoki and his business partner, Lawrence Vavra, are looking to ride the momentum that has come from their buzzy introduction in Los Angeles. The two reportedly want to open as many as seven more locations around LA and Southern California before the end of this year. Next year, they'll add a San Diego establishment; head north to set up shop in San Francisco, Oakland, and Berkeley; and look beyond the Golden State to markets in Boston, Chicago, Miami, and New York City, totaling 15 to 20 locations around the country, by Vavra's estimates.
What's more, Aoki is already thinking about expanding across the Atlantic Ocean.
"Well, it's kind of funny because I've been touring all summer and Pizzaoki is doing incredible, incredible numbers and getting an incredible response in LA, and all the interviews that I have been doing here in Europe and every single journalist wants to know when we're bringing Pizzaoki to their country," he tells Forbes. "When LV and I first sat down, we decided to conquer LA first then California and then the United States, that was the plan, but now the world is asking for it too. It's so exciting to think I could bring Pizzaoki to Germany, Spain, France, and Italy, I mean, that's the home of Pizza so who knows where we'll end up going."
• Steve Aoki Plans Massive Expansion For His Pizzaoki Pizza Delivery Business [Forbes]
• DJ Steve Aoki Launches a Delivery Pizza Company Across Los Angeles [ELA]
• All Eater Explainers [E]
Go to Source
Author: Chris Fuhrmeister
Beloved Food Magazine 'Cooking Light' Is Ending Regular Print Issues
Some of America's most reliable lifestyle and healthy-recipe magazines will disappear from mailboxes at the end of 2018. Less than a year after devouring Time Inc.'s collection of 22 food and lifestyle magazines, Meredith Corp. is scaling back two of its Birmingham, Alabama-based titles — Cooking Light and Coastal Living.
The publishing giant announced today that it will merge Cooking Light with fellow healthy-cooking title EatingWell under the EatingWell brand name. Both Coastal Living and Cooking Light will transition at the end of 2018 from subscription-based magazines to special interest publications available only on newsstands. Meredith also plans to outsource the work at its nearly 40-year-old hard-cover book division Oxmoor House.
Staff were informed of the major changes today and roughly 200 people were laid off at the publications as a result of the consolidations. The company is providing the employees who lost their jobs severance packages and outplacement benefits. Reached by Eater, a representative for the publisher said that there were no plans "at this time" to merge more Meredith titles. "We will continue to evaluate marketplace needs," she added.
Cooking Light had been in circulation since 1987. The magazine gained a loyal legion of fans during its tenure thanks to its reliable stockpile of healthy, accessible recipes, published 11 times a year. The December 2018 issue will be Cooking Light's final subscription-based issue. However, Cooking Light diehards will still be able to find their favorite recipe mag online and six times a year on newsstands beginning in 2019. Meredith's food publication headquarters, which includes Food & Wine and Southern Living in its portfolio, will continue to operate in Birmingham, Alabama, with Hunter Lewis and Sid Evans serving as editors-in-chief.
The shutterings aren't especially shocking. When rivals Time Inc. and Meredith merged last year, some acknowledged that with seemingly overlapping titles such as My Recipes and All Recipes, cuts and consolidations could be in the cards. Prior to the merger, Time Inc. made the major decision to relocate the New York headquarters of Food & Wine to Birmingham, closer to Cooking Light and Southern Living, and turn Lewis's role into a dual one.
Meredith estimates that by combining EatingWell and Cooking Light's subscribers, it will reach 1.775 million readers — about 80 percent of whom are women — making it the largest circulation in the epicurean magazine category. The new EatingWell will publish 10 times per year beginning with the January/February 2019 issue.
It's been a notably tough few for food and lifestyle magazines. Lucky Peach shuttered in March 2017. In January, Saveur was effectively gutted in a round of layoffs that included the departure of its editor-in-chief and deputy digital editor.
• These 22 Food Mags Will Be Owned by the Same Company [E]
Go to Source
Author: Brenna Houck
At Least One Waffle House Has Closed in Anticipation of Hurricane Florence
For anyone still harboring any doubt about the ferocity of Hurricane Florence, hear this: At least one Waffle House location in the storm's path is now closed.
The 24-hour chain restaurants rarely close, so news that the Waffle House in Myrtle Beach, South Carolina has shut its doors until after the storm passes is a clear indicator that this one's going to be a doozy. Local news station WMBF reports the restaurant on Myrtle Beach's Frontage Road is now "eerily empty" ahead of Florence's expected arrival.
Waffle Houses close so infrequently that the Federal Emergency Management Agency uses the restaurants as a barometer for disaster recovery, utilizing an informal "Waffle House Index" to measure the severity of tropical storms and hurricanes in a particular area. Essentially, if a Waffle House closes that's a sign that a storm was — or in this case, is anticipated to be — severe.
The Waffle House Index
Green: Waffle House is serving a full menu and electricity is on.

Yellow: Waffle House is serving a limited menu, may be low on food supplies, and is likely using an electrical generator.

Red: Waffle House is closed. (This is probably a good indication that it's time to evacuate.)
The National Weather Service has dubbed Florence "the storm of a lifetime"; news outlets are warning that the storm, which is expected to make landfall as a Category 4, will be "catastrophic," and it's projected to cause massive inland flooding across the Carolinas and Virginia.
As NPR reported in the wake of Hurricane Harvey, Waffle House does its damnedest to stay open even when natural disasters strike, sending "jump teams" of restaurant managers from other regions to keep restaurants running, often serving a limited menu. And with numerous locations in Florence's projected path, the restaurant chain is keeping a close eye on this storm:
Eater has reached out to Waffle House for information on any additional restaurant closures and will update with any further intel.
• Here's Your Sign: Waffle House Closed Until After Florence [WMBF]
Go to Source
Author: Whitney Filloon